Message from the Founder Chairman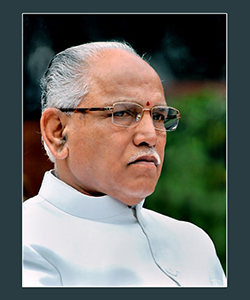 Teaching is the encouragement, direction and motivation of learning. Formal education is the spring board from which the students opt for further desired courses for their academic career. Students must be highly competitive to cope in this world of brain storming competition, where the student must excel their performance to meet the challenges of today's world.
 Swamy Vivekananda Vidya Samsthe strives to lay foundation for the exposure of their hidden talents and achieve their academic success. We also focus to instill their moral and ethical essence. We have taken the challenging task of providing the quality education to the students. We meet the aspirations of both students and parents towards the balanced development and in the right direction for making the enlightened, responsible citizens of the country.
Sri.B. S. Yeddyurappa
Chief Minister of Karnataka