B.Y.Raghavendra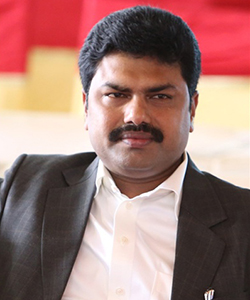 "The destiny of a nation is designed in its classrooms" aptly quotes
Dr.Radhakrishnan, this is the vision of the statesman of his next generation.
The vision of Swamy Vivekananda Vidya Samsthe is that to shape the destiny of the young minds, who are blessed with different inborn skills. The youths are the nation's building blocks. The creative imagination of the young minds is the prime requisite of the development of the nation as well as the individual career of a student.
We have recognized the need of the present world while India is being a digital country and encourage each one of them to achieve their goals and destinations in life ahead by way of providing excellent infrastructure, ambient environment for studies, well-equipped laboratories, library with latest resources, periodicals and books, excellent sports facilities and experienced, talented and dedicated teaching faculty. I hope, now you have the best gift to offer your children to get bright and safe future.
Wish you all the best.
With warm regards,
Sri. B. Y. Raghavendra
Secretary
Swamy Vivekananda Vidya Samsthe (R), Shikaripura
Member of Parliament, Shivamogga
MLA, Shikaripura